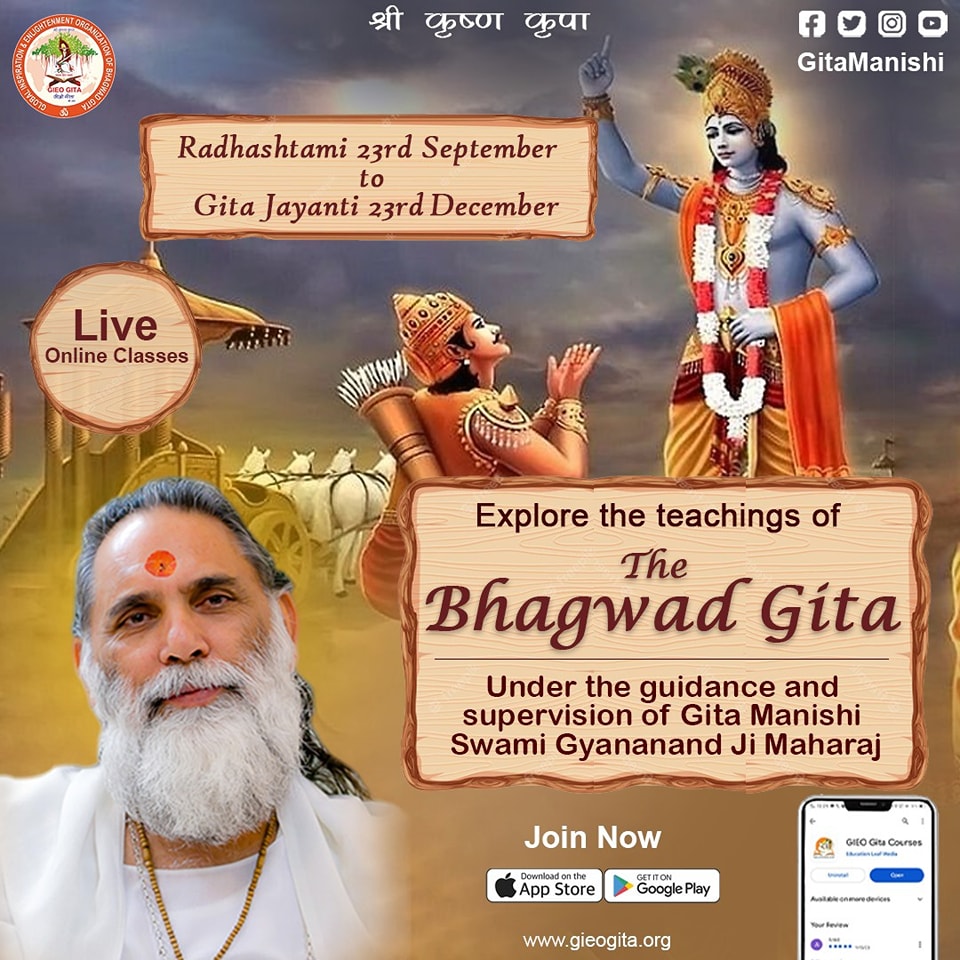 Gita Gyan Sansthanam, envisioned and founded by Swami Gyananand Ji Maharaj stands for the universality of the Bhagwad Gita, the spiritual heritage of India and the non-sectarian values that it propagates. A registered not-for-profit public trust it supports a wide range of initiatives committed to exploring Indian philosophy as a living tradition, faithful to its origins, yet compatible with today's world.
From this Radhastami 23rd Sept until Gita Jayanti 23rd December.
12 weeks of Bliss.
Explore the teachings of The Bhagwad Gita.  Under the supervision and guidance of Pujya shri Gita Manishi swami Gyananandji Maharaj. GIEO Gita courses brings you its first online offering – an introduction to The Bhagwad Gita. A combination of online content, live classes and assessments, this is a perfectly blended learning opportunity from your home. Made up of 6 units over 12 weeks diligently compiled by Pujya Shri Gyananandji Maharaji this is a unique opportunity to engage with and learn from The Bhagwad Gita. Pujya Shri Gyananandji Maharaj will go over the first chapter of the 12-week certificate program in an interactive session on Zoom that will be available to the users of this course .
Download the app today and complete your registration.
Live with The Gita – Learn how to Live
Guruji will go over an interactive session on Zoom that is available to the users of this course on the following dates:
Introduction of First Chapters:  1-October -2023
Introduction of Second Chapter : 15-October-2023
Swami Gyananand Ji Maharaj will deliver a face-to-face seminar at Gita Gyan Sansthanam, KDB Road, Kurukshetra on 19-November-2023.
How to Register for GIEO Gita Course